Creating & Managing Piano Lesson Playlists
Courses are a collection of lessons, and lessons usually have several chapters within each lesson.
There are several ways to locate courses, lessons and chapters.
Let's go through each method:
Playlist & Favorites
Beneath the Lesson Resources on each lesson page, you'll find 2 buttons: Add To Playlist and Add To Favorites.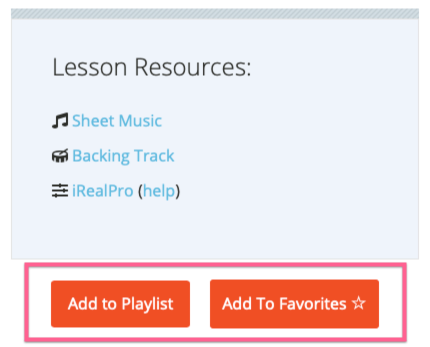 What's The Difference?
Playlists let you organize lessons into groups. For example, maybe you might put together a playlist of lessons that have only songs in it, while also creating a playlist that focuses on chords.
You can create as many playlists as you need and can easily manage them here.
Adding a Lesson to a Playlist...
To add a lesson to a playlist, first click the 'Add To Playlist' button on any lesson page.
If have not created a playlist yet, you'll see a message telling you to create a playlist first. Otherwise, you'll see this: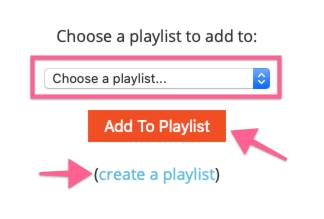 Managing Playlists
You can manage your playlists here.
Here are the options when managing your playlist:
Pin - this will pin the playlist to the 'My Jazzedge' menu (more on this later) and you'll see a gold star next to your pinned playlist
Edit - this is where you can edit the playlist name
Manage - click here to manage the lessons in the playlist
Delete - this will delete the playlist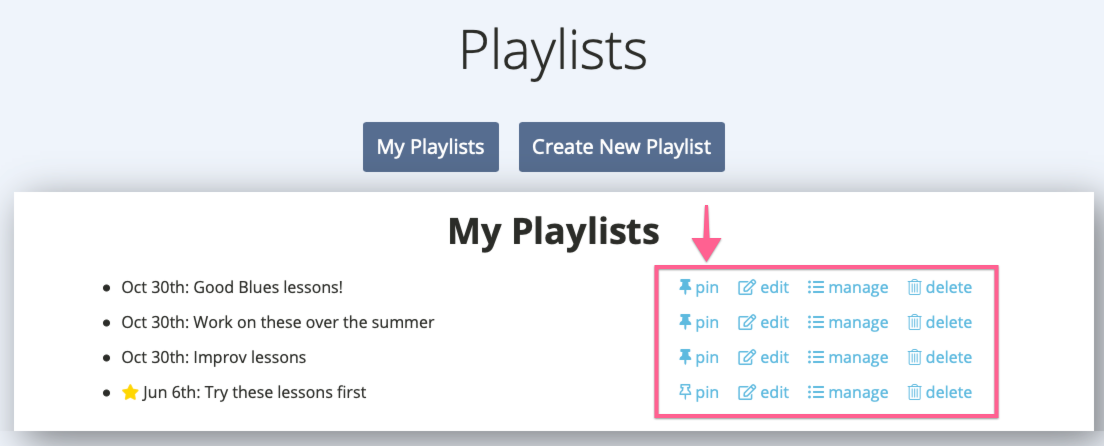 Rearranging Lessons
After adding lessons to the playlist, you might want to change the order in which they show up in the list.
To rearrange the order of the lessons, click on 'manage' then click and drag on the 4 arrows icon (seen below) to change the order of the lessons.
On a phone/tablet you might need to use 2-fingers to move the lesson.

Playlists & 'My Jazzedge'
Clicking on the 'My Jazzedge' link in the main menu will give you quick access to both your playlists and your favorites.
If you pinned a playlist to the menu (see Managing Playlists above) then it will show up under the My Jazzedge menu.
From here, you can quickly move between lessons on any page by selecting a lesson from the dropdown.
See below: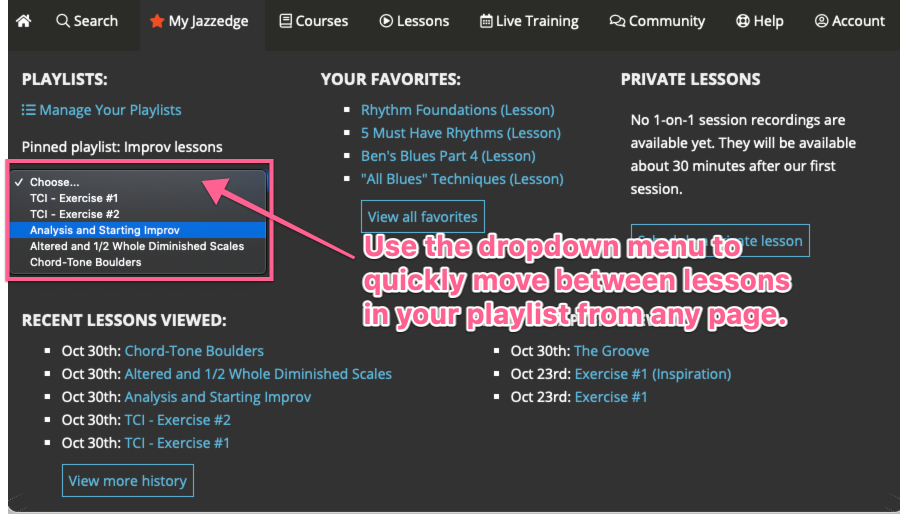 Favorites
You can find your favorites under the My Jazzedge menu item or in you progress page.
Support is here when you need it!
There are many ways to get help...
Visit our Knowledge base for videos and articles
Email us at support@jazzedge.com
Join in on Office Hours every Wednesday at 1pm EST